Sump Pump Repair by Scavello Handyman Services
Why Call Scavello Handyman Services For Sump Pump Repair?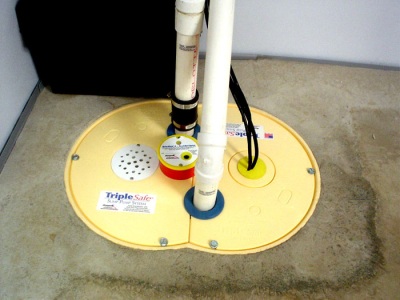 Sump Pump Experts
Although they sit quiet month after month, when sump pumps are needed, they are REALLY needed! If your sump pump is older, regular maintained and minor repairs will keep them running reliably. You have no way of knowing that your pump is working properly, until you get lots of rain or a minor flood. This is because your sump pump will lie dormant until it is called to action. If you discover that your pump is not running, give us a call at (610) 421-1220 for quick, economical service. We've been in business since 1994, and we have an excellent record of sump pump repair.
Sump Pump Emergency Service
If your sump pump fails, it's crucial to get up and running again as soon as possible. Standing water from flooding can create a perfect environment for mold and other harmful organisms. This is why we offer emergency sump pump repair. It's also a good idea to call Scavello Handyman Services to service your sump pump on a yearly basis, but if you do have an emergency, Scavello Handyman Services is standing by for an emergency repair call. 
Going the Extra Mile
We do everything we can to ensure that your sump pump is up to snuff for the next big storm. Whether you require a quick check to make sure it's running properly or an immediate repair visit if it's not running when needed, Scavello Handyman Services can get the job done right. We ensure that your sump pump will outlast any storm! Call Scavello Handyman Services at (610) 421-1220 now for a free quote!