Kitchen & Bath Remodeling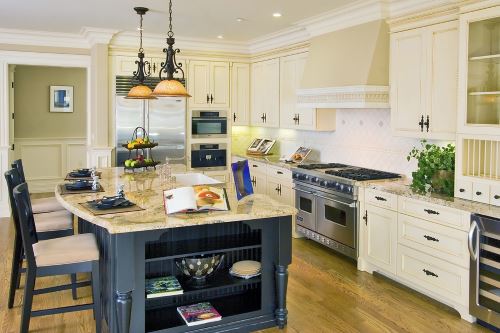 Scavello Handyman Services offers complete kitchen and bathroom remodeling. Having been in business for 25 years, the technicians at Scavello Handyman Services have the skills and creativity required to transform your outdated kitchen or bathroom into the gorgeous room seen in a magazine.
Kitchen Remodeling
Remodeling a kitchen is one of the best ways to improve the value of your home and give it a fresher, updated look. A kitchen is also one of the most important rooms in the home. It's a place where the family comes together and spends time together. So why spend your days in an outdated, unwelcoming room? Give it a fresh, new look!
Some kitchens may require a more elaborate remodel than others. Depending on the changes you'd like to make, you may need to choose new cabinets, hardware, appliances, flooring, paint, light fixtures, countertops and backsplash. You may even want to add an island or a peninsula. No matter how grand, or minor the change, Scavello Handyman Services will be happy to transform your home's kitchen.
Bathroom Remodeling
Tired of that old, worn out bathroom? Almost everyone starts their day and ends their day in the bathroom. Start your day off with a smile and end it with a smile by being in a bathroom you love!
Like your kitchen, depending on the number of changes you'd like made, you may want to choose a new vanity, light fixtures, shower/tub, toilet, tiles, flooring, and paint. Have Scavello Handyman Services help you decide the best options for you. Call Scavello Handyman Services for a free consultation on your bathroom remodeling.
Bathtub Remodeling
Tired of your outdated, dreary shower? Replacing or updating your existing bathtub can drastically change the look and feel of your bathroom at a fraction of the cost to a full remodel. Scavello Handyman Services can help you create the bathroom of your dreams by simply updating the bathtub. We will custom-fit the bathtub you desire to your existing bathroom and come in a variety of designs, patterns and colors to suit your home's style.
We can replace and install many different style bathtubs, including:
Clawfoot
Freestanding
Alcove
Drop-in
Soaking tub
Don't postpone your remodel any longer, call Scavello Handyman Services.